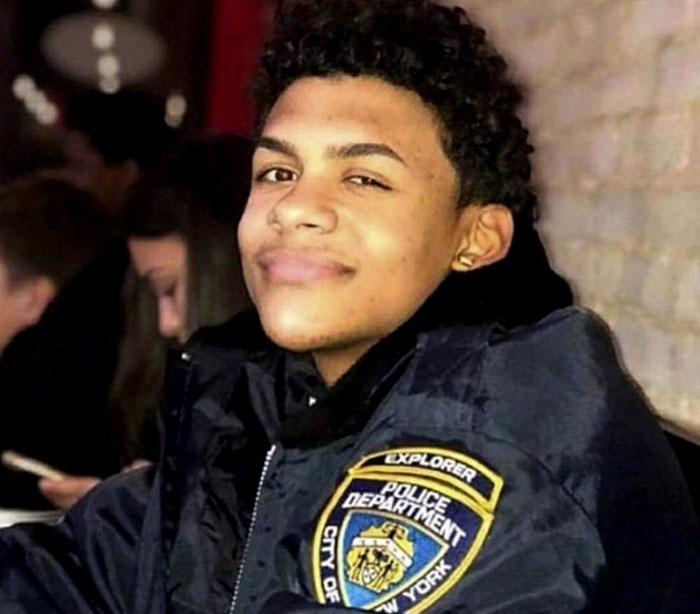 On the night of June 20, 2018, Lesandro 'Junior' Guzman-Feliz was fatally attacked outside a Bronx bodega. The 15-year-old was chased down the street, dragged out of the Belmont bodega where he sought refuge, and stabbed & slashed multiple times by his attackers, one of which used a machete. The entire attacked was caught on surveillance video.



News 12/Univision Justice for Junior Town Hall:
Complete video of the Justice for Junior town hall at Hostos Community College
Justice for Junior Special Part 1: More Than a Murder:

News 12's Jessica Cunnington takes a look back on how the murder unfolded, how the story went viral on social media, and how the flood of tips from the public quickly narrowed the search for the killers with investigators quickly making over a dozen arrests in the days to follow.


Justice for Junior Special Part 2: Spirit of the Streets
When Lesandro "Junior" Guzman- Feliz was brutally murdered on June 20th, 2018, it sent shockwaves across the world. Over the last year, the "Justice for Junior" movement has grown beyond the Bronx. News 12's Asha McKenzie explores how the community has been unrelenting in its fight for justice in "Justice for Junior: Spirit of the Streets."
Justice for Junior Special Part 3: Losing Lesandro
It's been 1 year since 15 year-old Lesandro "Junior" Guzman-Feliz was taken by gang violence. A heartbreak his family was not prepared for and one they've had no choice but to live with.

Justice for Junior Special Part 4: Terror of the Trinitarios
Lesandro "Junior" Guzman-Feliz was hunted down and killed by members of the Trinitarios - a violent street gang. The death shattered a family, united a community and showed the world that the Bronx is home to some ruthless gang members.
Junior's mother Leandra Feliz remembers her son.
Cellphone video also captured Junior desperately stumbling toward St. Barnabas Hospital just a block away in an attempt to get help. But the teen collapsed at the entrance and died.

Junior's sister, Genesis Collado Feliz, reflects on her brother's life.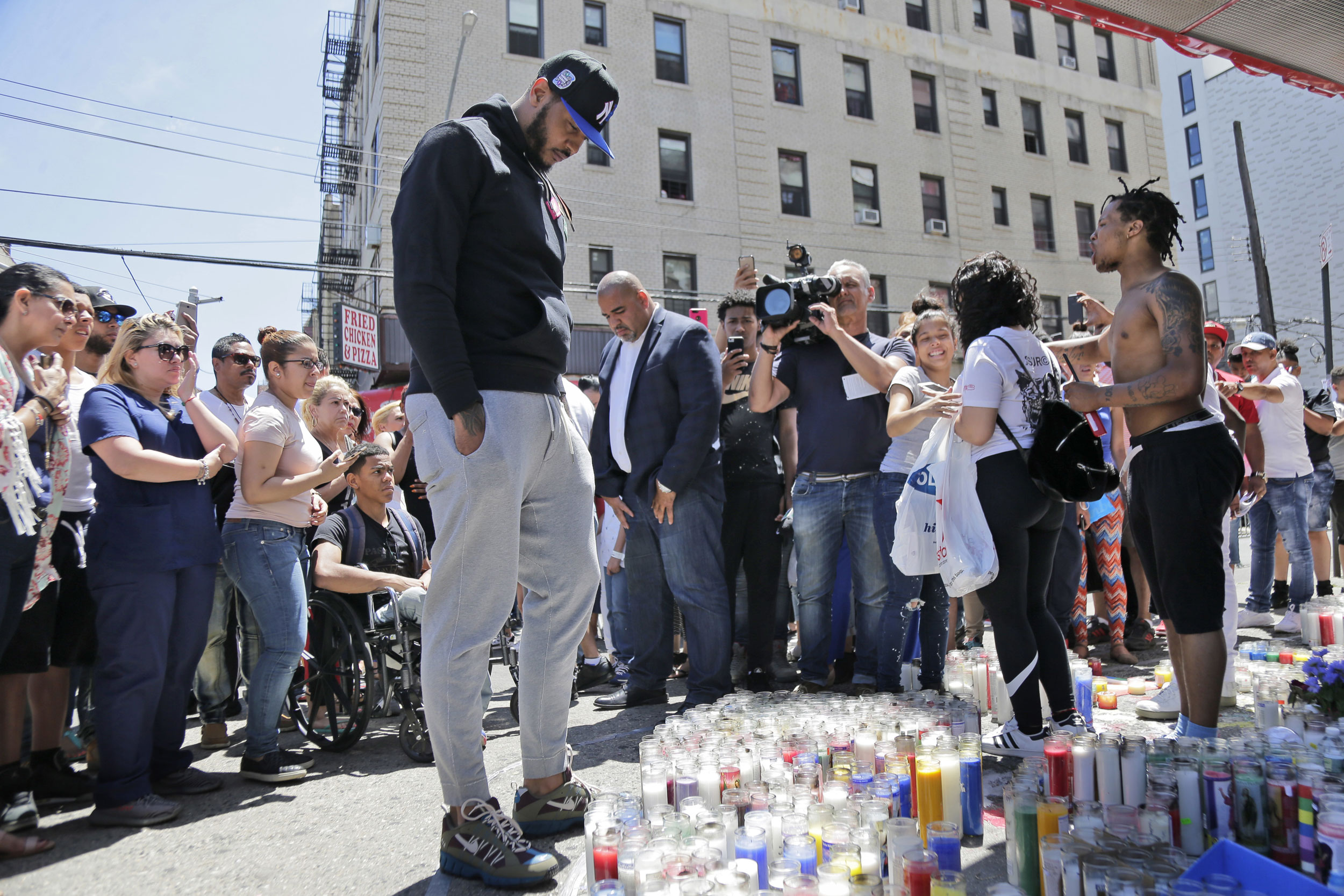 Former New York Knick Carmelo Anthony visits a memorial to Lesandro Guzman-Feliz near the site of his murder (AP Photo/Seth Wenig)
The surveillance video of the attack went viral on social media and the #JusticeforJunior became a rallying cry. The NYPD tip line received a flood of calls as the community
refused to stay silent
following the senseless death. The NYPD also considered Junior one of its own as he was a beloved member of the department's Explorers program for aspiring members of law enforcement.
14 people were arrested in connection with the murder. Five have
been found guilty of murder
.
Teacher Arndray Gay talks about the impact Junior's death has had on the community and other children
Juan Garcia, Chris Lozaro and Katherine Oliva are still coping with their friend's death
News 12 The Bronx looks back on the murder and developments that have taken place this year with a series of 30-minute specials this month.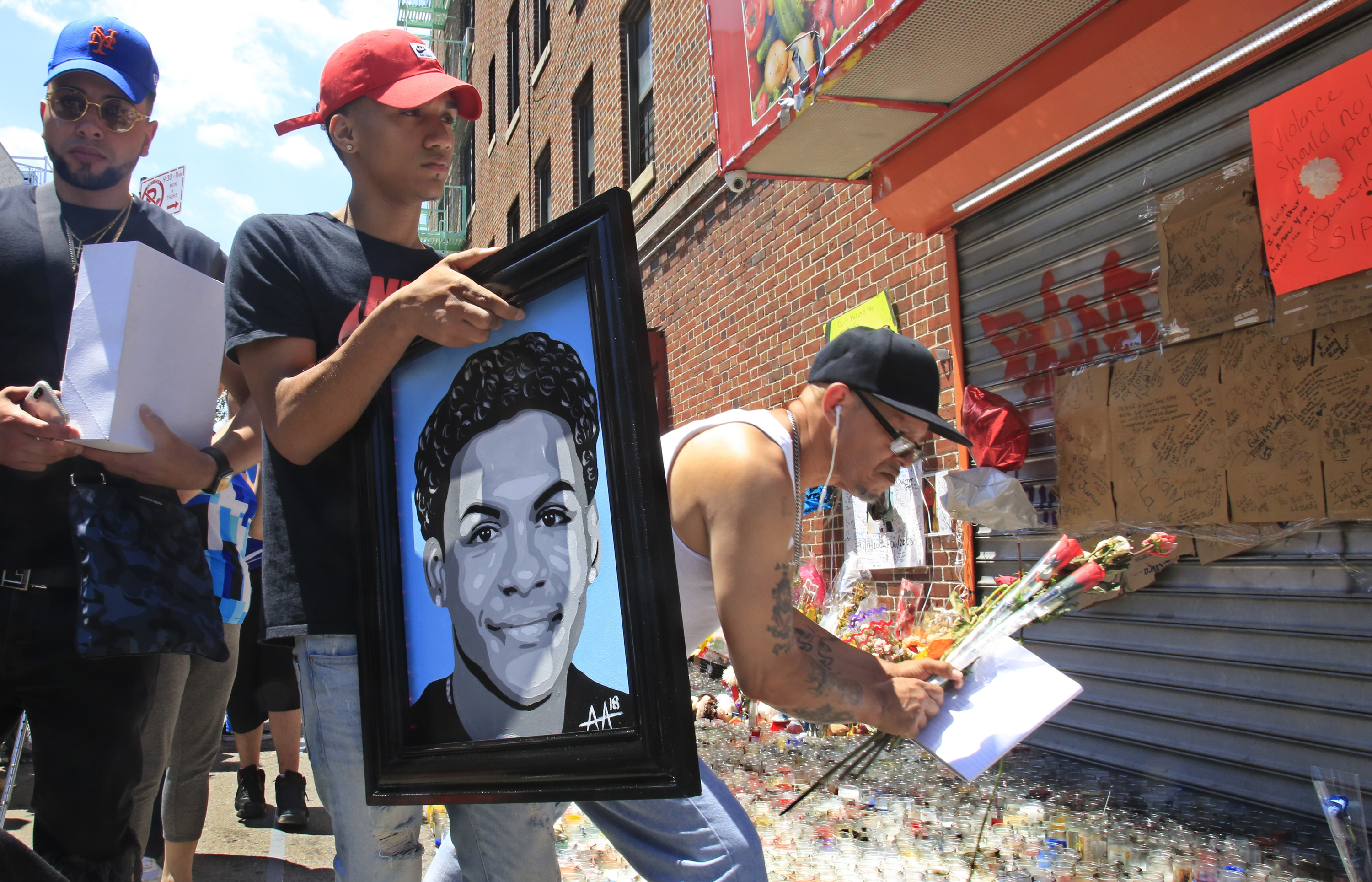 Jose Bencosme holds a painting of his cousin 15-year-old Lesandro Guzman-Feliz, a gift from celebrity artist Samil Alva, as he visits a community memorial (AP Photo/Bebeto Matthews)
Explorers Program participants Giovanni Valdez and Deimarys Lara talk about the impact of Junior's death
Extended footage, interviews from Justice for Junior: Part 3 - Losing Lesandro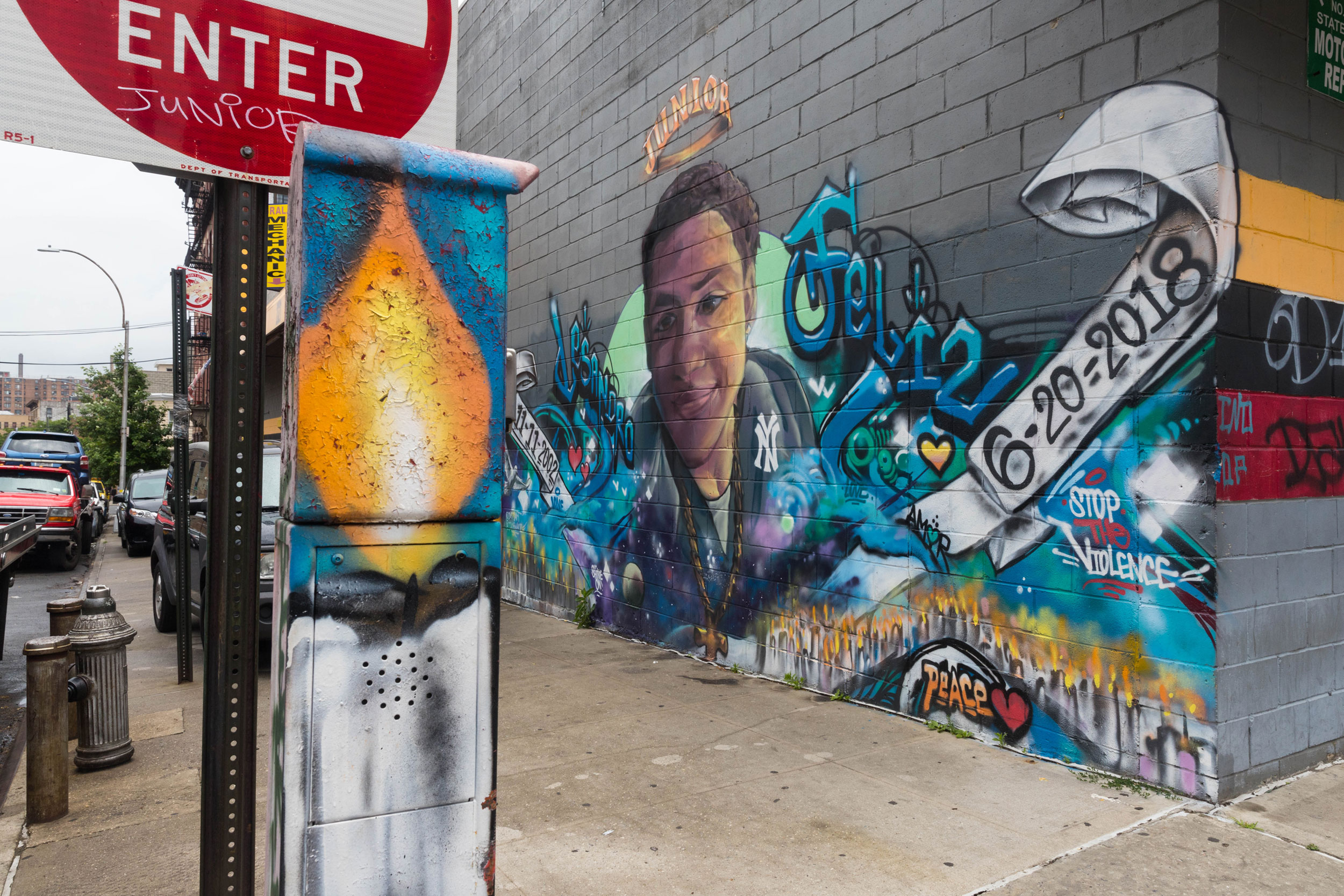 A mural for Junior at East 184th Street & Bathgate Avenue (Photo by Mike Leon, News 12)
In-Studio Q&A about the Junior trial with Anthony Carlo
Anthony Carlo answers questions after 5 individuals were found guilty in connection with Junior's murder.
Terence Monahan, NYPD Chief of Department, says detectives worked 48 hours straight to arrest suspects in Junior's murder


Extended interview with Junior's father:
Please note: Interview is in Spanish


Extended interview with Darnell Macon of Save Our Streets

Interview with Edwin Torres - East Coast Gang Investigators Association

Interview with Curtis Sliwa - Guardian Angels

Interview with Rafael Cespedes - Trinitario Gang Member

Interview with Aminra Farrah - Founder, Bang United

Interview with Jaime Rivera - Former Ñetas Leader

Interview with Manuel Gomez - Private Investigator



#JusticeforJunior Schedule:
PART 1 – Justice for Junior: More than a Murder
PART 2 – Justice for Junior: Spirit of the Streets
PART 3 – Justice for Junior: Losing Lesandro
PART 4 – Justice for Junior: Terror of the Trinitarios